Rugby World Cup France 2023 - Tour 13 - The Château
Rugby World Cup France 2023 - Tour 13 - The Château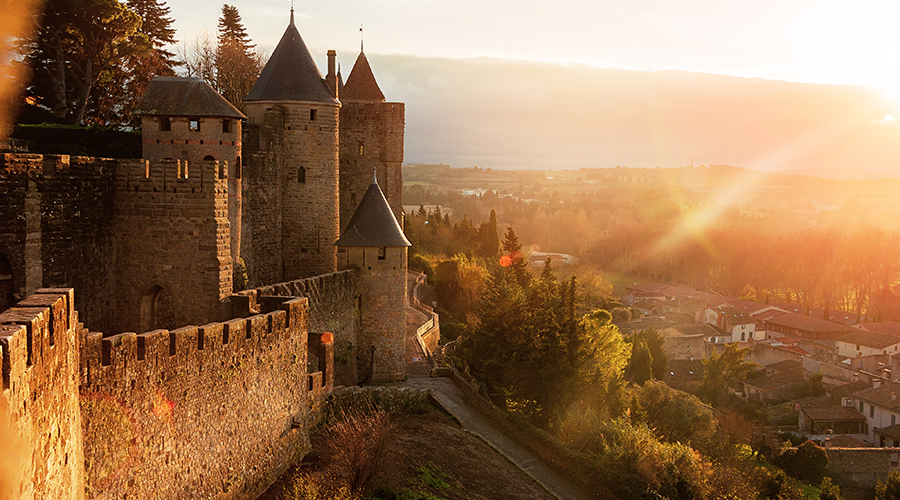 This tour is now sold out. Contact us to be placed on our waiting list and check-out our other quarter-finals to final tour options HERE.
Justin Harrison
& We Love Rugby invite you to enjoy 16 nights on a Rugby World Cup tour like no other.
Based in and touring the Southwest of France in the Midi Pyrenees and Languedoc Roussillon regions, where Justin lived, played and coached rugby, the tour will include 3 nights in Marseilles for the quarter-finals, 6 nights in Paris for the semis and final plus 7 unforgettable nights in a Château in South West France. Here, you will experience
la belle vie
(the good life) as we visit local vineyards, countryside and villages in a truly immersive French experience.
Your tour includes Category 1 tickets (the highest category) to the two Marseilles quarter-finals (featuring Australia's pool winner & runner-up), both semi-finals and the final.
Not only will you enjoy the great sights of Paris and Marseilles, it is tailored to travellers who want to experience the French life and culture in unison with your unique Rugby World Cup journey, led by former Australian international Justin Harrison (Le Goog).
JUSTIN HARRISON
After making one of Australian rugby's most famous debuts in Sydney against the Lions in 2001, Justin went on to earn 34 international caps. He played with the Brumbies and Waratahs in Australia before stints with Ulster, Bath and Narbonne.
Included Matches
Category 1 match tickets
are included as standard for all games - enjoy the best seats in the house for:
✔
quarter-final 1
, 14 October, Stade Vélodrome, Marseille
✔
quarter-final 3
, 15 October, Stade Vélodrome, Marseille
✔
semi-final 1
, 20 October, Stade de France, Saint-Denis
✔
semi-final 2
, 21 October, Stade de France, Saint-Denis
✔
final
, 28 October, Stade de France, Saint-Denis
Plus you can add an optional ticket to the
bronze final
at Stade de France on 27 October to your tour when booking.
Inclusions
Accommodation
Top quality hotel & château accommodation throughout (16 nights)


3 nights in Marseille (13-16 October)


3 nights in Narbonne Château (16-19 October)


3 nights in Paris (19-22 October)


4 nights in Narbonne Château (22-26 October)


3 nights in Paris (26-29 October)


Breakfast daily
Match Tickets
Reserved Cat 1 ticket for quarter-final 1


Reserved Cat 1 ticket for quarter-final 3


Reserved Cat 1 ticket for semi-final 1


Reserved Cat 1 ticket for semi-final 2


Reserved Cat 1 ticket for final
Transfers
Coach and high-speed train transfers throughout
Sightseeing
Narbonne city tour


Narbonne winery tour


Paris city tour


Carcassonne tour


Golf day or Beziers tour


Languedoc gastronomy tour
Merchandise
Commemorative We Love Rugby tour merchandise set
Our Châteaus
We stay at two of southwest France's most incredible châteaus following the quarter-finals and semi-finals stages of the tournament.

Châteaus consist of elegant suites and apartments blending modern comforts with original features. Rooms are fully equipped with terraces and gardens, many with private pools.

There is a Mediterranean restaurant on site along with a laid-back salon bar and terraces with endless vineyard views. Our heated pool includes loungers, bar service and spectacular views.

Other facilities include a tennis court, boules and BBQ area, 25 acres of gardens and park surrounded by 150 acres of scrubland and vineyards, crisscrossed with trails perfect for exploring on foot or by complimentary bicycle.

Our Marseille and Paris hotels are top quality venues, full details will be announced here shortly!


Itinerary
Friday 13 October – Welcome to Marseille!

Get ready for a massive weekend of rugby action as the business end of France 2023 gets underway!

Details for meeting the group at today's hotel will be sent four weeks before the tour. Extra nights of accommodation at our tour hotel will be available to add closer to the tour.

We will have flight options and prices for economy, premium economy and business class fares available 12 months before the tour and will be in contact at that time. Flights booked through We Love Rugby will include arrival airport transfers to our hotel.

After check-in at our hotel we'll head down to the restaurants of the Vieux Port area to sample some of the local seafood ahead of the weekend's matches.


Overnight: Marseille
Saturday 14 October - Quarter-final 1

Founded by the ancient Greeks around 600 BC, Marseille is the oldest and second-largest city in France. Its strategic position on the Gulf of Lion has meant it has been a major trading port since its inception with a cosmopolitan culture with influences from across Europe, north Africa and the Middle East.

This afternoon is the first of this weekend's quarter-finals featuring the winner of Australia's Pool C and the runner up of Pool D (England, Japan or Argentina). Tonight's second quarter-final in Paris sees the winner of Pool B take on Pool A's runner up.

Quarter-final 1 (Winner Pool C v Runner-Up Pool D), Stade Vélodrome, Marseille, 17:00


Overnight: Marseille
Sunday 15 October - Quarter-final 3

We return to Marseille's Stade Velodrome for quarter-final number 3 - runner up in Australia's Pool C against the winner of Pool D. The last of the quarter-finals tonight features the winner of Pool A and the runner up of Pool B.

Quarter-final 3 (Runner-Up Pool C v Winner Pool D), Stade Vélodrome, Marseille, 17:00


Overnight: Marseille
Monday 16 October - Transfer to Narbonne

Stretching lazily along the Mediterranean from the Côte d'Azur to the Spanish border, the Languedoc is the quintessential South of France, a region of vibrant fishing villages, endless beaches, rolling vineyards and cypress fringed olive groves, of medieval castles perched on rocky outcrops, thriving market towns and forgotten hamlets.

The region is also the heartland of French rugby and we'll spend time with tour host Justin Harrison learning about his time playing and coaching here as we take in the best of what the region offers!


Overnight: Narbonne Château
Tuesday 17 October - Narbonne City Tour

Today we explore historic Narbonne. Built on the Canal de la Robine, Narbonne was the first Roman colony in Gaul when it was founded in 118 BC. We will explore the Gothic Cathédrale Saint-Just et Saint-Pasteur - begun in the 13th century but never completed - and the Horreum - an underground labyrinth of ancient warehouses left over from the town's days as a Roman port. We will then head down to nearby beach and Mediterranean harbor.


Overnight: Narbonne Château
Wednesday 18 October - Winery Tour

Today we visit one of the best local vineyards for an inclusive lunch and wine tasting session. Since antiquity the Greeks and Romans understood the wine growing potential of the region thanks to its gravelly, clay-limestone soils and the impact of the Mediterranean sea breezes.

The exceptionally sunny climate, harsh in the winter, hot and dry in the summer, frequently rocked by sea winds, keeps the vines dry and free from diseases. Typical grape varieties grown here include Merlot, Cabernet-Sauvignon, Caladoc and Pinot Noir for red and rosé wines, and Chardonnay, Viognier, Sauvignon Blanc and Muscat for white wines.


Overnight: Narbonne Château
Thursday 19 October - Transfer to Paris

This morning we head to Paris ready for the Rugby World Cup semi-finals. Tonight all of our tour groups come together for a big night on the town in anticipation of tomorrow's rugby action!


Overnight: Paris
Friday 20 October - Paris City Tour & semi-final 1

Today we visit some of Paris's many sightseeing highlights such as the Eiffel Tower, Notre Dame Cathedral, the Arch de Triomphe and Champs Elysees. Following our sightseeing tour you will have the afternoon to explore other local features such as the Louvre Museum or a cruise along the Seine.

Then tonight we head to the magnificent Stade de France for the first of the tournament's semi-finals.

Semi-final 1 (Winner QF 1 v Winner QF 2), Stade de France, Saint-Denis, 21:00


Overnight: Paris
Saturday 21 October - Semi-final 2

Today we explore more of what the French capital has to offer including the Champs Elysees, Montmartre and the Parisian cultural highlights around Le Marais. Then we return to Stade de France for tonight's second semi-final.

Semi-final 2 (Winner QF 3 v Winner QF 4), Stade de France, Saint-Denis, 21:00


Overnight: Paris
Sunday 22 October - Transfer to Narbonne

Today we return to Narbonne ahead of four more days and nights of exploring the best that southwest France has to offer!

After returning to our château this afternoon we'll kick back for pre-dinner drinks with a review of the semi-final results and some predictions for the final!

Overnight: Narbonne Château
Monday 23 October - Carcassonne Tour

Today we visit the medieval fortress city of Carcassonne, first established in Roman times. The location is an amazingly preserved example of medieval life.

Then we kick back at the pool bar at our château to share some thoughts of the tournament so far and what lies ahead in the tournament final.


Overnight: Narbonne Château
Tuesday 24 October - Golf Day / Beziers Tour

This morning we head for a round at one of the region's best golf clubs. Clubs and buggy hire is included and after our round we will enjoy a late lunch at the club.

For the non-golfers we have an escorted tour option taking in some of the smaller fishing villiages and historic town of Beziers.


Overnight: Narbonne Château
Wednesday 25 October - Gastronomy Tour

We have one of our tour highlights today as we head out for an afternoon of sampling the best food and drink of the region. We start with lunch at another top winery where dishes are served with matching wines over the course of the afternoon. We then move on to one of Narbonne's most picturesque locations for some early evening drinks before hitting the traditional bars of the town centre tonight.


Overnight: Narbonne Château
Thursday 26 October - Transfer to Paris

This morning we have time for a final relax on the grounds of our château before we return to Paris ahead of the Rugby World Cup 2023 Final!


Overnight: Paris
Friday 27 October - Palace of Versailles Tour

Today we visit the world heritage listed Palace of Versailles for a tour of the incredible Royal apartments and extravagant gardens. In 1623 Louis XIII developed a hunting lodge on the grounds which was subsequently developed into a magnificent palace and gardens which soon became an enduring symbol of royal opulence.

This evening we get together at our central Paris sports bar for the bronze final, always an exciting display of attacking rugby!

A ticket to tonight's bronze final can be added to your tour during the booking process.


Overnight: Paris
Saturday 28 October - Pre-Final Function & World Cup Final

This afternoon we have our pre-final function where our expert panel will share their thoughts on the tournament and preview tonight's final.

Then tonight is the tournament's showpiece event at Stade de France!

RWC 2023 Final, Stade de France, Saint-Denis, 21:00


Overnight: Paris
Sunday 29 October - Tour Ends

Today our tour ends. Airport transfers will be included for anyone who has purchased their flight through We Love Rugby, details for this will be available in October 2022. Extra nights at our tour hotel will also be available if needed.
---